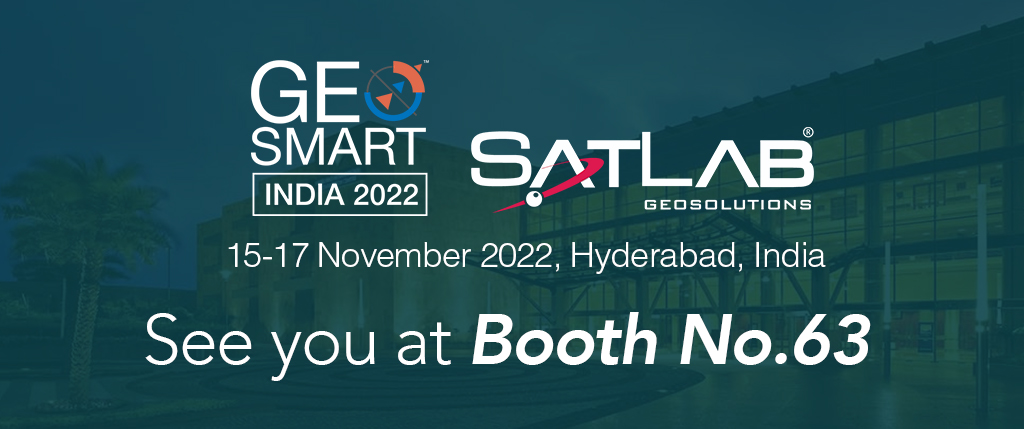 October 24, 2022
Showcase Geospatial Innovations in Geo Smart 2022
Venue: HICC Hyderabad, India
Date: 15–17 November 2022
Theme: "#geospatialbydefault: Empowering Billions"
Technology integration, innovation and policy reforms are bringing significant attention to geospatial technology and expanding its reach to larger masses of the society and optimizing business processes. With a significant role in making the country "Atmanirbhar" by driving innovations and building scalable solutions, geospatial is becoming ubiquitous, pervasive, and 'default' in our daily lives.
To deliberate geospatial technology use and demonstrate tech benefits across various sectors, SatLab will be exhibited at the GEO SMART 2022 as scheduled.
At booth No.63, we will diaplay SatLab's advanced GNSS technologies including
GNSS Receivers:
Eyr – New Dual-Camera GNSS RTK with Image Positioning Technology
Freyja – Lightweight but with Full Functionality
SL900 – Flexible Solution Promises Positioning Reliability
SL700 – Made to Withstand the Harshest Weather Conditions
GIS:
TBA Handheld Tablet – Optional High-precision GNSS Version for GIS Applications
Handheld Controller:
SHC55 – 5.5'' Bigger Screen for Your Wider Vision
Total Station:
SLT10 – High Light Screen and High Reliability
SLT2 – Fast and Powerful Reflectorless EDM
CORS Solution:
SLX – with Chock Ring Antenna
SLAM handheld scanner
Cygnus – The Avant-grade Mobile Mapping Solution
With the hope of providing more feasible and effective industrial solutions to the geospatial sectors, we are eager to see you at this great event for people around the world!
Register now to schedule a personal business visit to SatLab's booth: